When the suits of the RFU summoned Martin Johnson – the alpha male of English rugby – to restore national pride in the spring of 2008, two questions stood out. Firstly, could captain marvel turn coaching mastermind? And secondly, what would an England team under Johnson look like? Would he sculpt the side in his own image – a snarling bruiser that revels in a forward battle – or would he unleash a new generation of young attacking talents?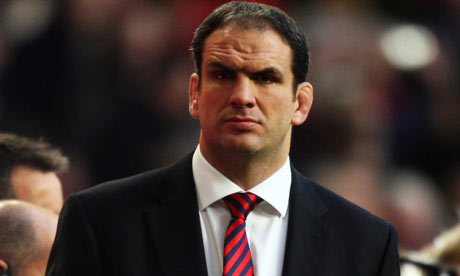 The answer to the second question informs much about the first. England's lack of success under Johnson owes much to their lack of identity and direction.
They have neither bullied teams into submission with their mighty pack, failing to dominate at set-piece and collision time – nor have they run opponents ragged with high-tempo gain-line rugby. The ideal of course is a balance of both, but England have displayed neither.
The suspicion remains that they do not have the players for one, and do not have the coaches for the other.
The management's preference is clear. Psychologists say that when under intense pressure people revert to type and reveal their true self. And after the early days – literally lasting days – flirting with a more ambition gameplan, England have swiftly retreated into pragmatism.
But they no longer have the ogres of Johnson's era (as New Zealand famously moaned) to throttle teams and then rip through their heart. The captain is a case in point. Steve Borthwick tries with all his might to lead the charge by carrying slow ball, but he is too lightweight to make the hard yards in the international arena.
In the absence of Andrew Sheridan and Matt Stevens, and the aging of Phil Vickery, the front row is hardly formidable. And not even Jonny Wilkinson is exempt. England have been reliant on their kicking game and yet Wilkinson is not the longest kicker from hand, and on his autumn form not the most accurate either. Johnson can't even find a satisfactory battering ram in the centres to fulfil their 12-man game plan.
The coaches could argue they have been warded off a more ambitious approach by confusion at the breakdown, which many say inhibits high-tempo rugby. This, though, is short sighted. There are other options beyond the kicking game.
The basics of running into space, off-loading, aggressive rucking and quick release should be England's attacking framework. This would utilise the strengths of England's best players: the itching scrum-half (Danny Care), the gain-line operators (Danny Cipriani, Shane Geraghty, Ricki Flutey and Toby Flood), the agile off-loaders (Simon Shaw, Lee Mears), the speedsters (Ugo Monye and Delon Armitage) and the super fit support runners (Lewis Moody and Tom Croft).
England's inability to harness these players is the most damning aspect of Johnson's tenure thus far.
Much of it comes down to trust. Johnson, an inexperienced coach, has surrounded himself with those he trusts and ostracised those he doesn't. More than that, the way England have been playing suggests a climate of fear hangs low over Twickenham HQ and weighs heavy on its celebrated subjects.
Few would have accused Johnson the player of lacking courage, direction or identity but these attributes have been blatantly absent during his time as coach. And he must rediscover those qualities during the coming Six Nations campaign if England are to find success under his leadership.
By Jonny Mcleod