Considering the first round of Six Nations matches are yet to be fully digested, some may feel it's a little premature to start focusing on a potential title decider, but based on what we saw in week one, this year's Championship could well be a two-horse race.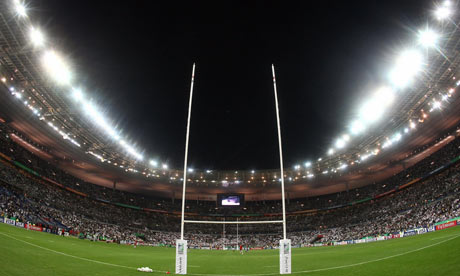 So what should we expect at Stade de France come Saturday?
Judging by Ireland's stop-start win over Italy, perhaps not much. The Grand Slam holders lacked fluidity and were visibly rusty after two months apart. Despite leading 23-8 at half-time, Italy's refusal to lie down prompted a second half to forget as neither side attacked with purpose.
But as the old adage goes a win's a win and Ireland, for all their stuttering, find themselves in a familiar place – at the summit (albeit on point's difference).
Amid a scrappy affair there were reasons to cheer for Declan Kidney: The performance of Ronan O'Gara, who racked up 16 points with the boot and the rejigged pack who not only destroyed the Italian lineout but also more than competed in the scrum.
Pluses aside, the overriding feeling will be one of frustration. Ireland went missing after the first 40 minutes and there is the danger they head to Paris undercooked.
Throughout 2009 Ireland were unbeaten and their year culminated with a magnificent comeback against Australia and a fine win over world champions South Africa. Three months later and suddenly they look devoid of ideas? No, no mountains out of mole hills here. They weren't tired and they hadn't turned into England; Italy's lack of ambition simply sucked the life out of the Irish.
If Ireland can raise the tempo and play with the intensity they showed in the autumn, France may come unstuck even at home. The Irish play best when their tails are up, when their big guns fire on all cylinders. Brian O'Driscoll wasn't at his best against Italy, he didn't have to be, but he will have a huge influence on Saturday's result.
Another man expected to make a big impression is O'Driscoll's opposite number, the enormous Mathieu Bastareaud. The 18-stone outside centre was at his rampaging best against Scotland as France bullied their hosts into submission with a masterclass of pure power. And in essence, Saturday's outcome will be decided upon two different styles: pace and power.
Marc Lievremont's obsession with tinkering could finally be over. Two years and 71 players later, his side appears comfortable with their direct approach. Their pack includes possibly the best back-row in world rugby and their backline, although not the quickest in French history, is full of burly runners who seem to relish the confrontation at the gain line.
If Ireland can initiate early momentum, they have the pace in the backs to move France around. France will look to impose themselves from the outset and will aim to bring their home crowd in to play as soon as possible. Bastareaud may test O'Gara's shoulder in the opening minutes but should the number 10 deal with the physical threat, he could have the last laugh by kicking in behind the French.
While the battle of the backlines is sure to be compelling, the exchanges in the forwards will take centre stage. Ireland's front row will be hardened after the Italy encounter but with France's new physicality, I see only one winner at the breakdown and at scrum time.
But Ireland, like Scotland did, will get chances, and if O'Driscoll's men can silence the crowd by taking them, they could go to Twickenham still dreaming of another Grand Slam.
By Tom Walker