London Irish came within one point of lifting the Guinness Premiership trophy last season, and Jon Hobbs believes that they will be in the running once again at the end of the year.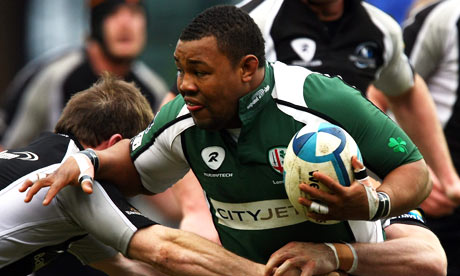 Steffon Armitage could feature heavily for Irish and England this season
Players In
Andy Perry (Newcastle Falcons)
Paulica Ion (Bath Rugby)
Ryan Lamb (Gloucester Rugby)
Jamie Lennard (Doncaster Knights)
Chris Malone (Harlequins)
George Stowers (Kobe, Japan)
James Tideswell (Plymouth Albion)
Ben Stevenson (Newbury)
Players Out
James Bailey (Lyon)
Warren Fury (London Wasps)
Shane Geraghty (Northampton Saints)
James Hudson (Newcastle Falcons)
Tonga Lea'aetoa (Toulon)
Dominic Shabbo (London Welsh)
Richard Skuse (Saracens)
Eoghan Hickey (London Wasps)
London Irish will rely on a very similar 1st XV to last season to bring them the Premiership crown they got so close to nabbing. Playing some fantastic rugby through the season they deserved their place in the final but were outplayed in the big match when it counted.
Shane Geraghty is a big loss and has not been replaced with the same quality – signing three average fly-halves is money that could have been spent better on one obvious first-choicer and an understudy. Ryan Lamb cannot structure a game to combat different types of opposition, Chris Malone has proven limited throughout his career and Jamie Lennard is untested at this level. This will be where the Exiles come unstuck.
They have enough quality in the Armitage brothers, Peter Hewat, Richard Thorpe and Nick Kennedy (to name a few) to beat most of the better teams but without a proven fly-half they may not win the big matches.
However, this comes at a time when many of their challenging clubs have been rocked by summers spent in turmoil and they should benefit from being a settled squad with an excellent coach. They will be there or thereabouts at the end of the season but I don't think they will win it.
Prediction: 2nd (losing finalists)